"Design is not just about aesthetics, it's about crafting an experience!"
Imagine stepping into a cozy sanctuary tucked away in the heart of bustling Singapore—a place where modernity meets tradition, and every detail tells a story. Welcome to Weiken's latest project at 1B Cantonment Road, where our designer Evelyn Wang has worked her magic. What was once a conventional 4-bedroom HDB layout has undergone a stunning metamorphosis into a modern oasis that elegantly blends Chinese and Japandi influences.
As an experienced interior designer with a knack for infusing cultural richness into contemporary spaces, Evelyn has masterfully transformed a traditional 4-room HDB flat into a cozy haven that marries the beauty of Chinese and Japanese aesthetics. The driving force behind this transformation wasn't just a desire for change, but also about creating a welcoming environment for the homeowner and her two beloved cats.
Incorporating Tradition With a Modern Twist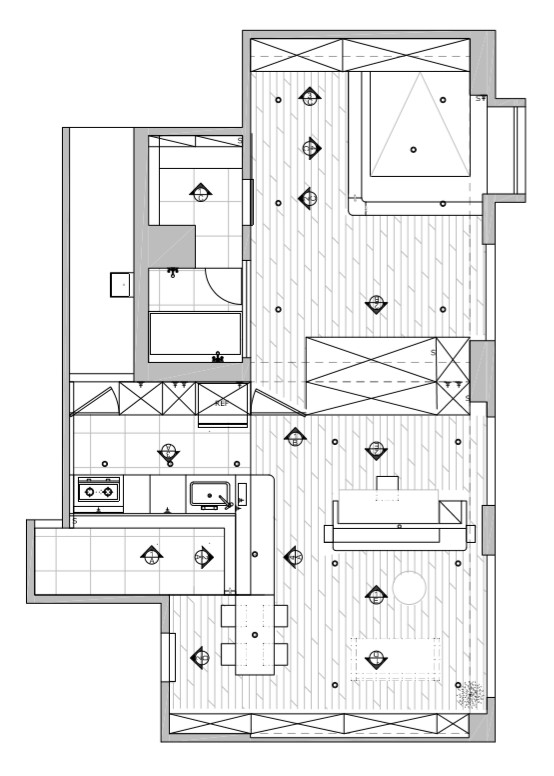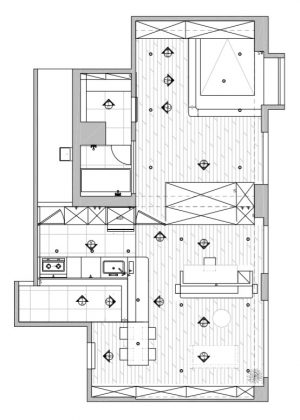 Address: 1B Cantonment Road
Home type: 4-Room HDB
Theme: Chinese Japandi
Budget: $120,000
Work scope: Hacking, Electricity, Plastering, Carpentry, Tiling, Plumbing, Painting, Cleaning.
The magic begins as soon as you step inside, where an open-ended design connects the kitchen, dining room, and living room. The bathroom structure has been ingeniously opened up, breaking the boundaries between two bedrooms, and divided into dry and wet areas. The result? A sense of expansive openness sweeps through the entire residence, inviting natural light and positive energy.
Ink Tones and Chinese Screens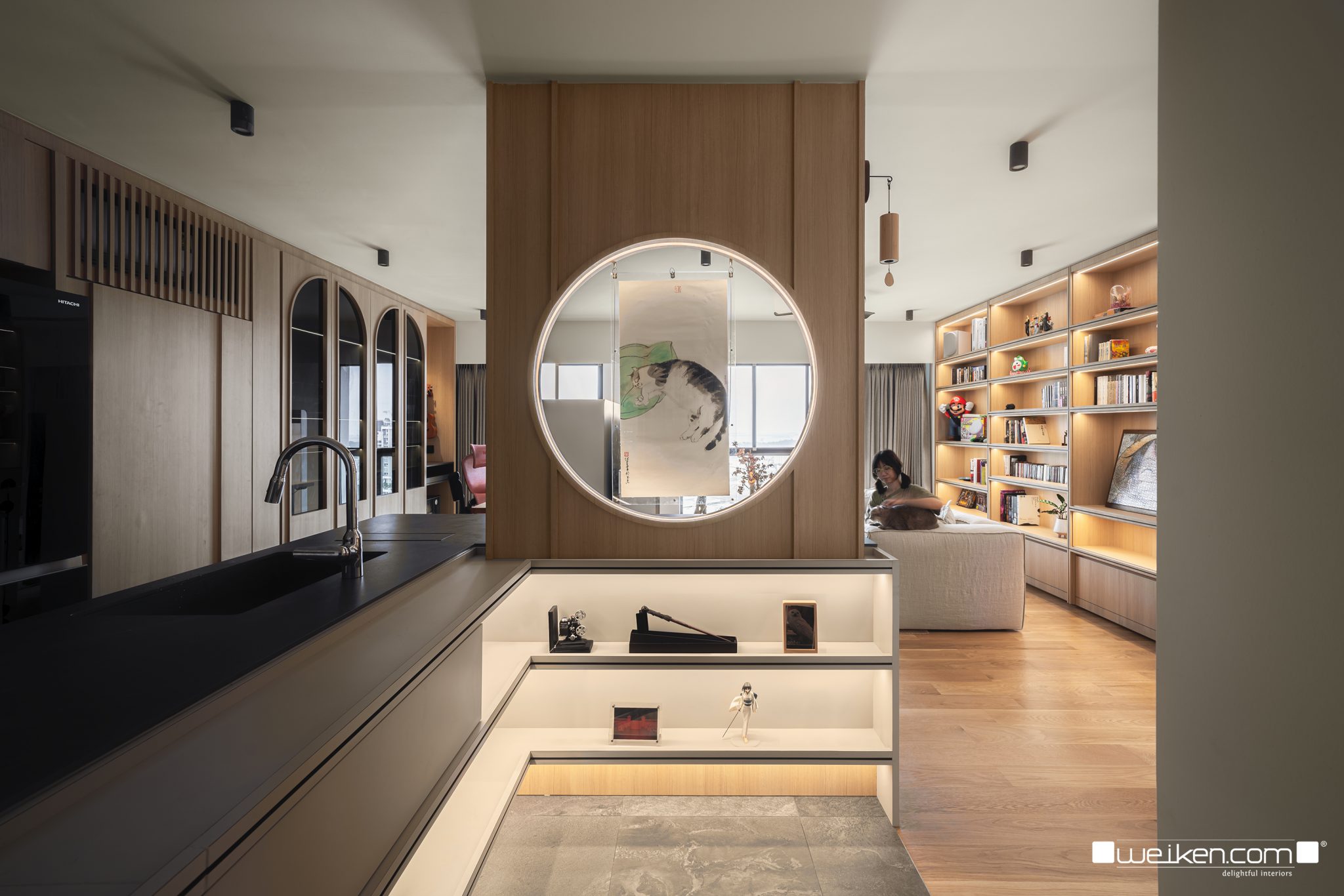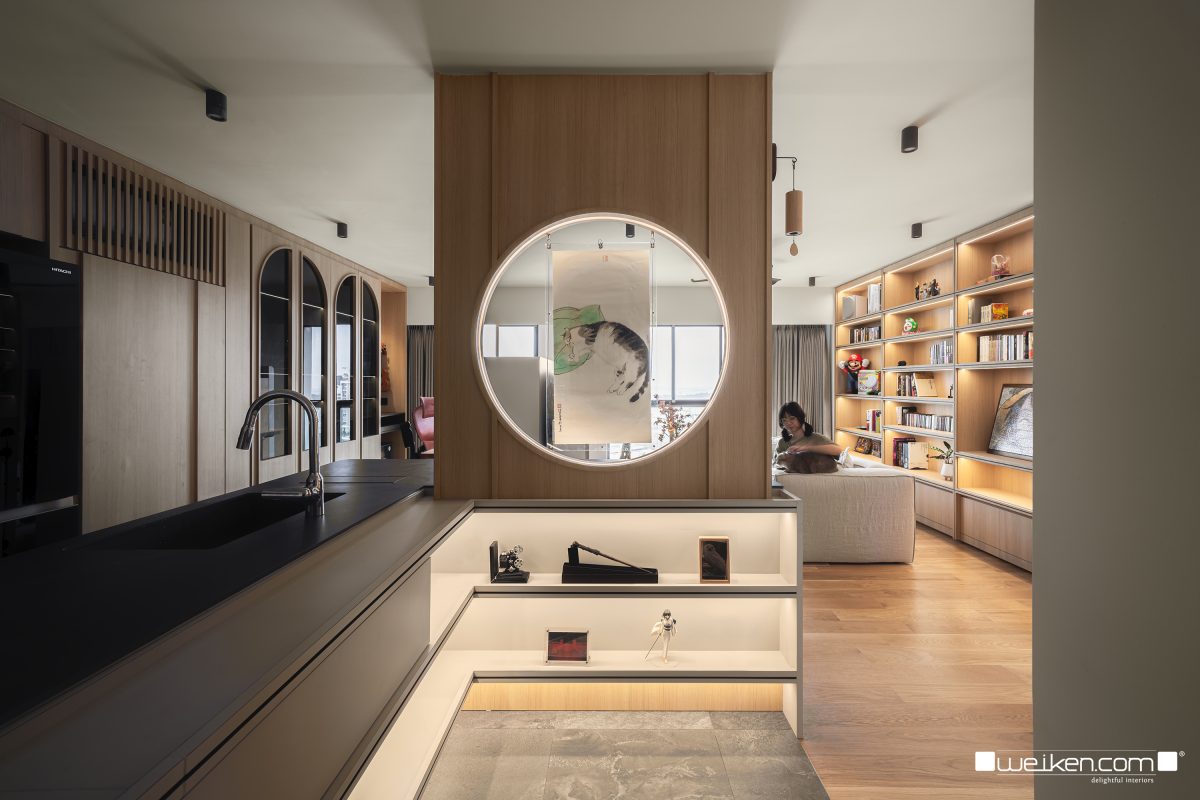 Stepping inside, you will be captivated by the subtle yet profound infusion of Chinese culture. The ink tones, reflected in black and black decorations, create a striking contrast, evocative of traditional Chinese artwork. Chinese-inspired screens are used as dividers in the entry area, serving both functional and artistic purposes.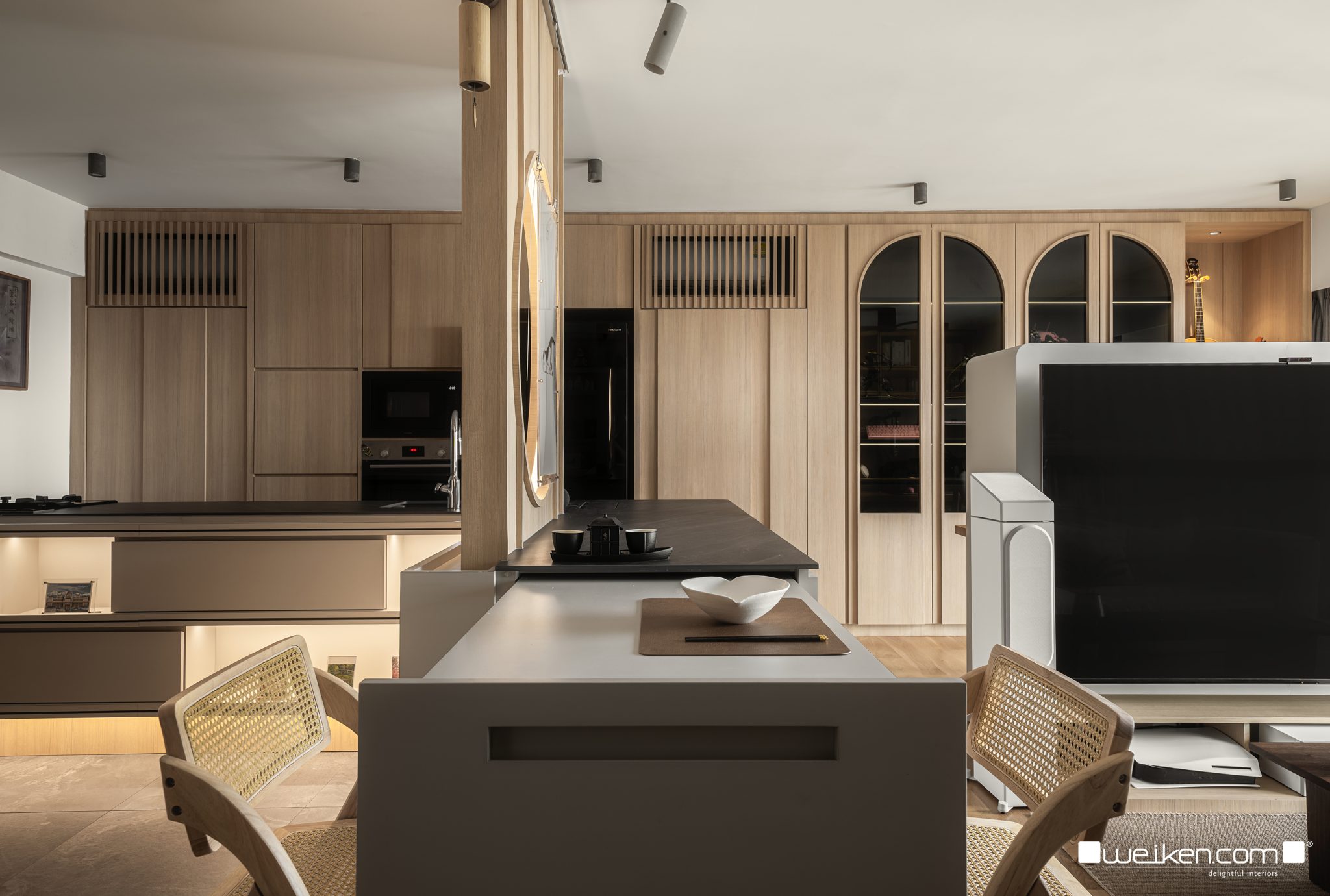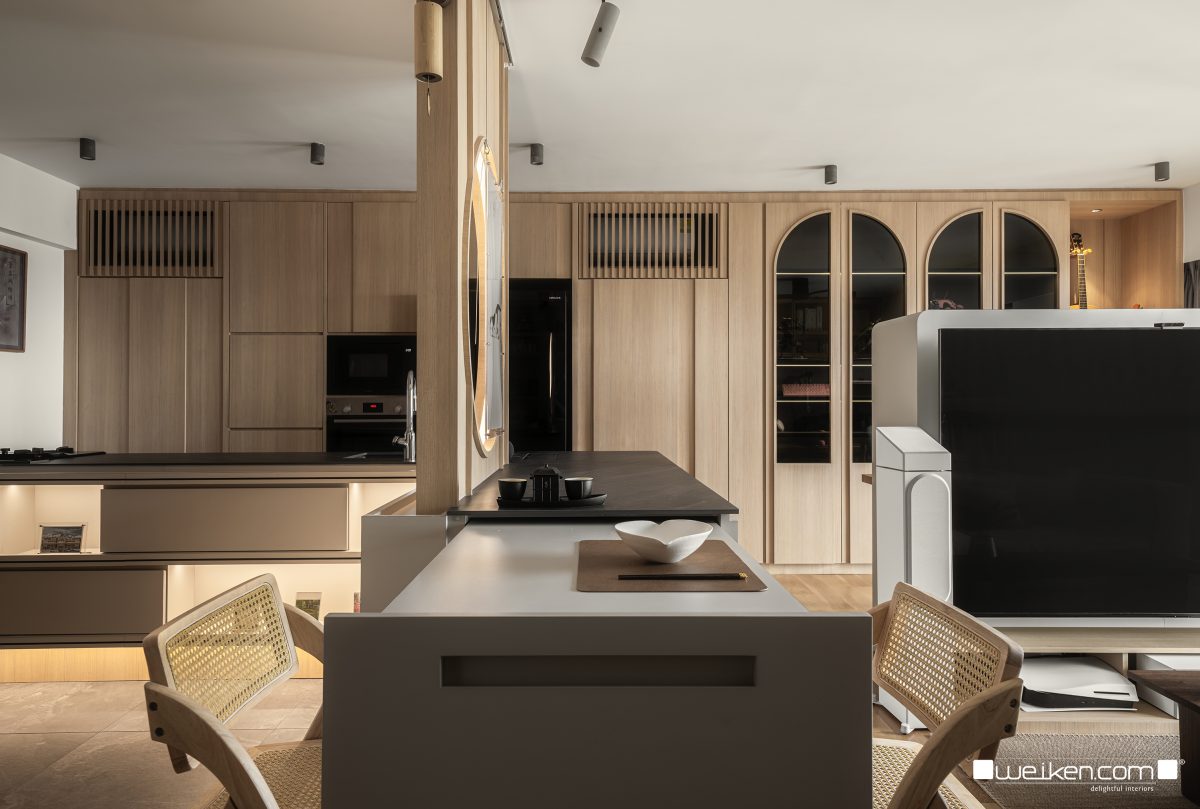 Within this space, photographs adorn the walls, forming a dynamic "framed scene" that can be customized to suit the owner's mood and lifestyle. As sunlight pours through the floor-to-ceiling windows, these images add a personal touch dancing in the daylight.
Evelyn explained the underlying narrative guiding this cultural approach: "Designing with cultural elements is like telling a story through space".
Wood and Its Timeless Elegance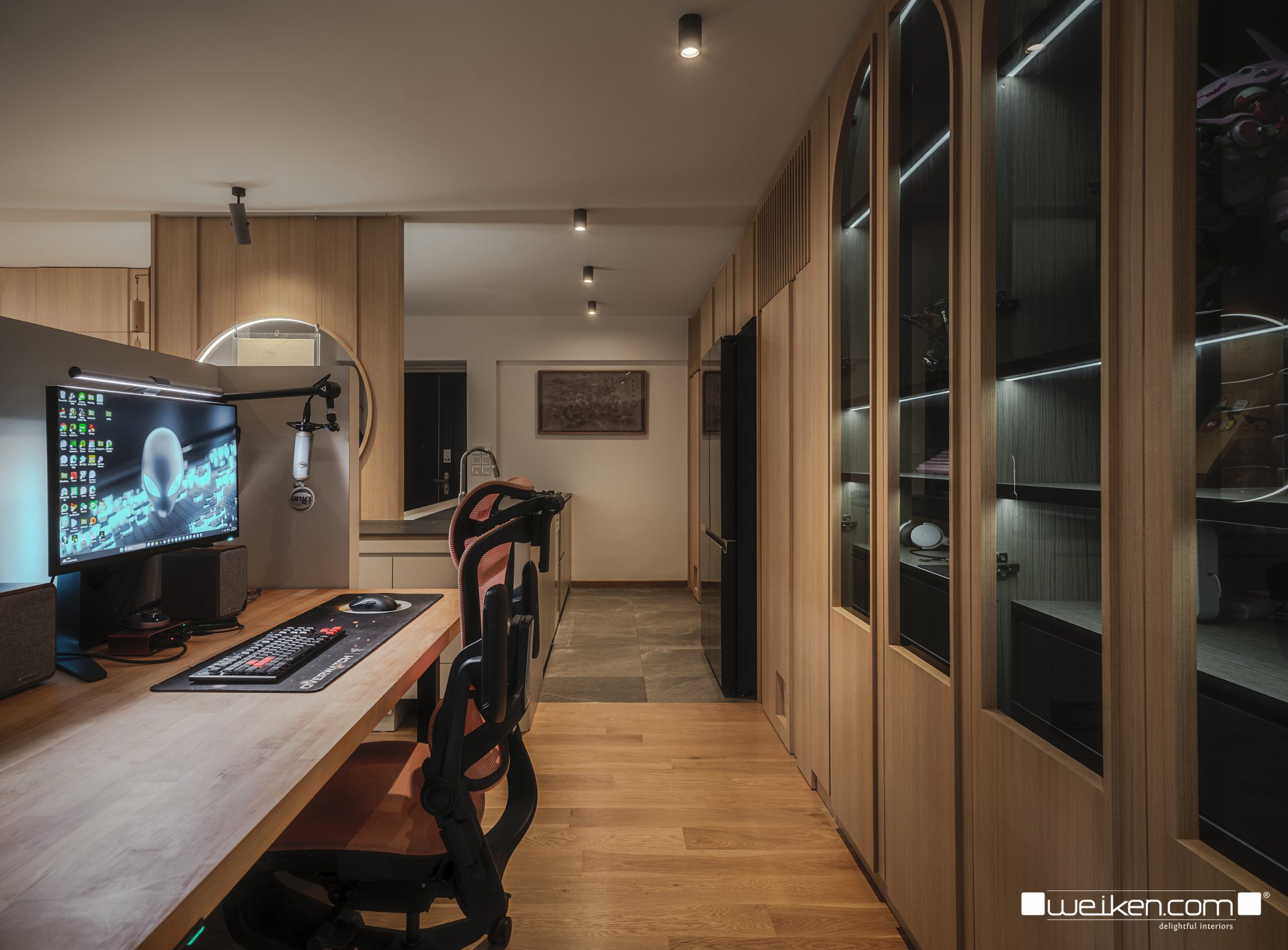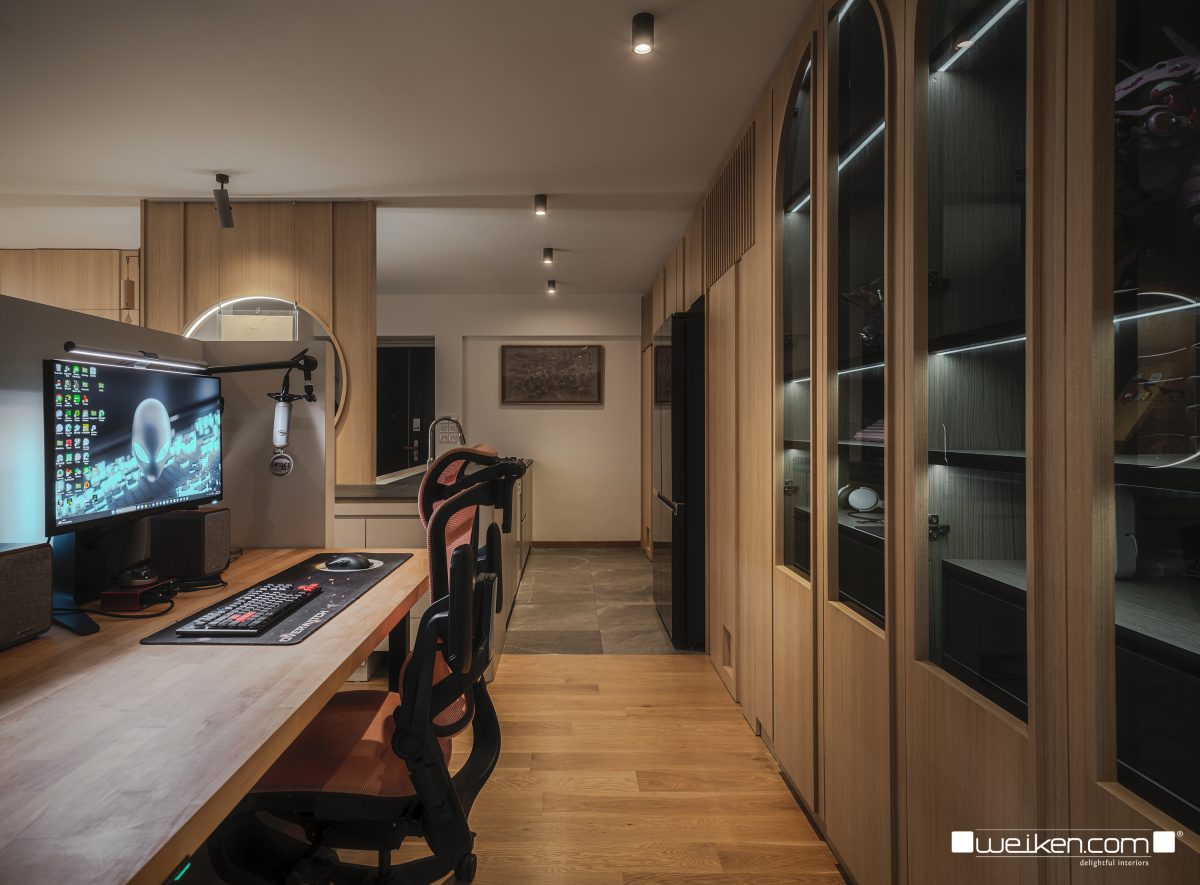 The choice of solid wood flooring unifies the design scheme with a warm, welcoming ambiance. It's the foundation upon which this design narrative unfolds. Evelyn's masterful use of wood forms a harmonious canvas that brings the entire concept together.
Living Room Design (Where Japanese Minimalism Meets Scandinavian Simplicity)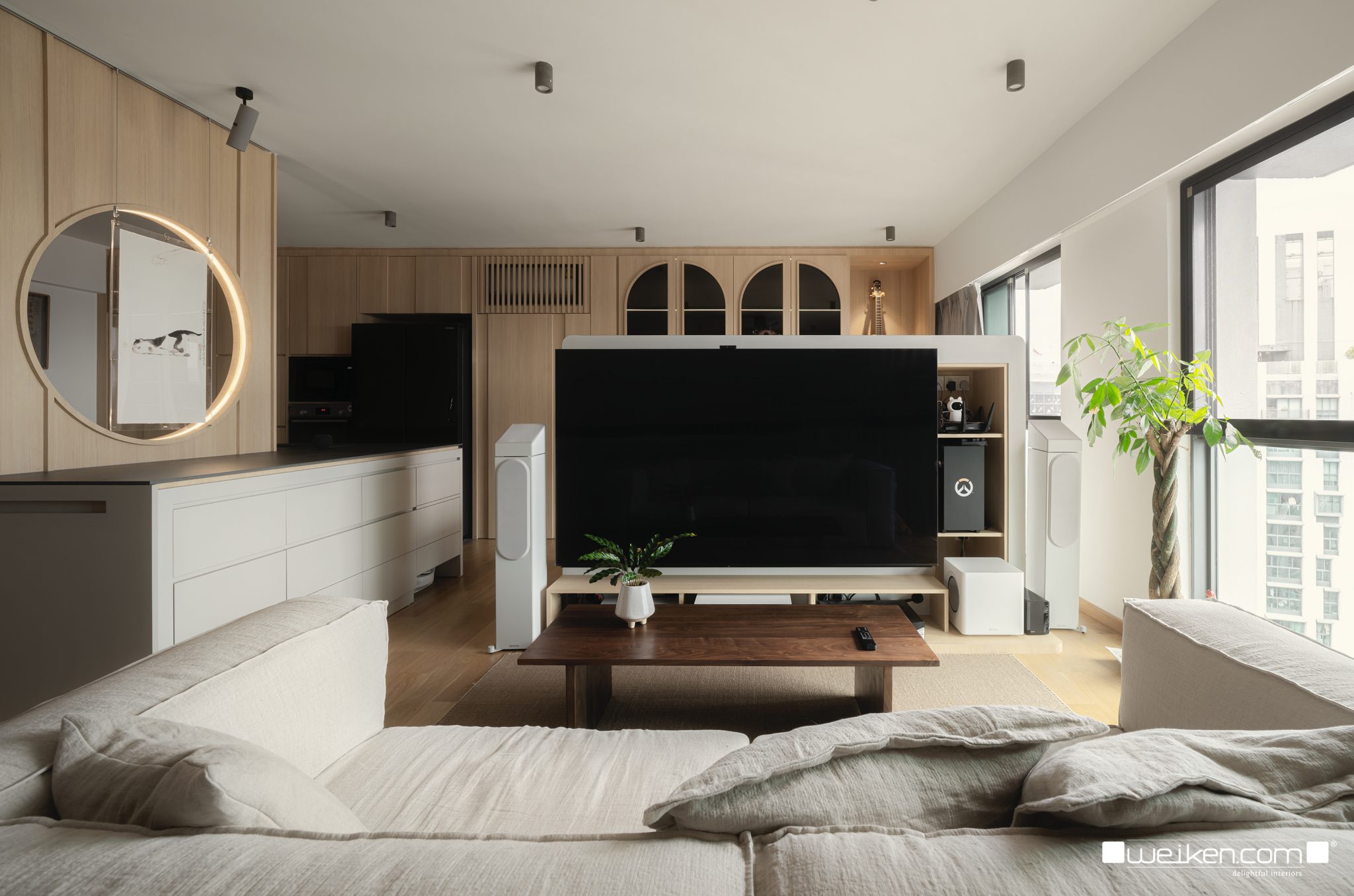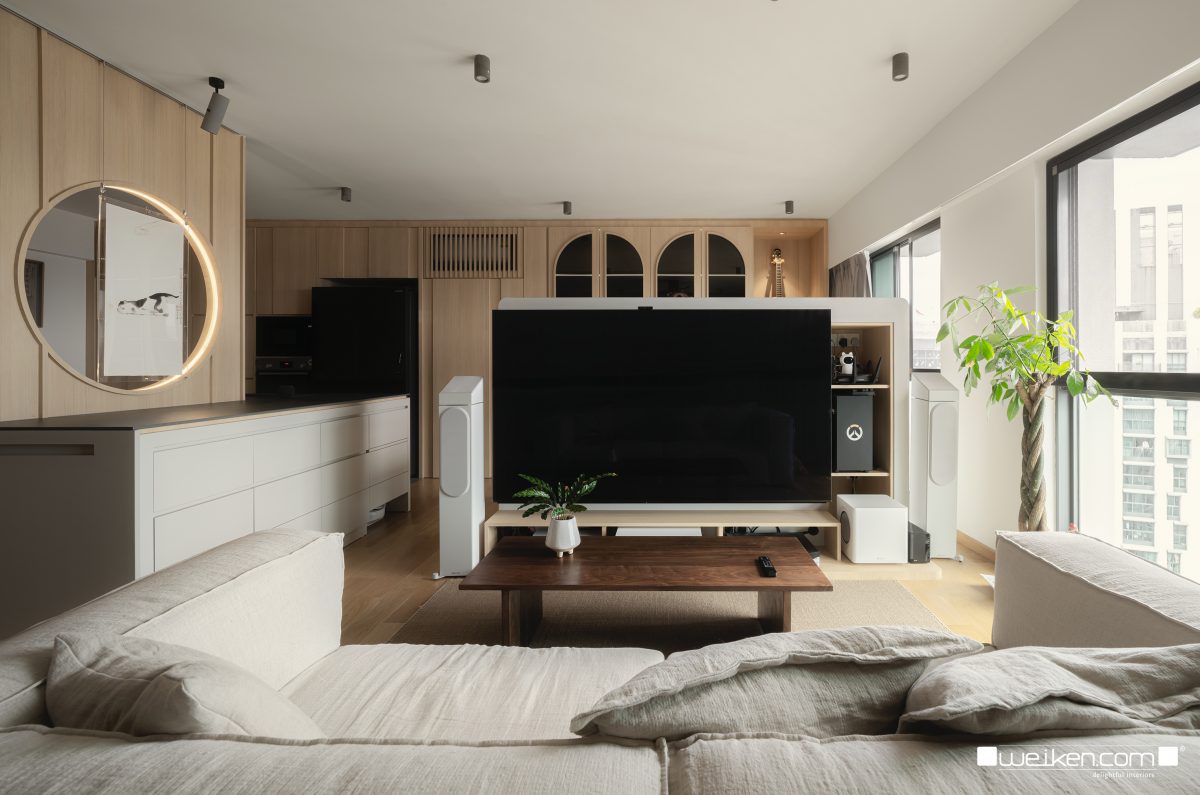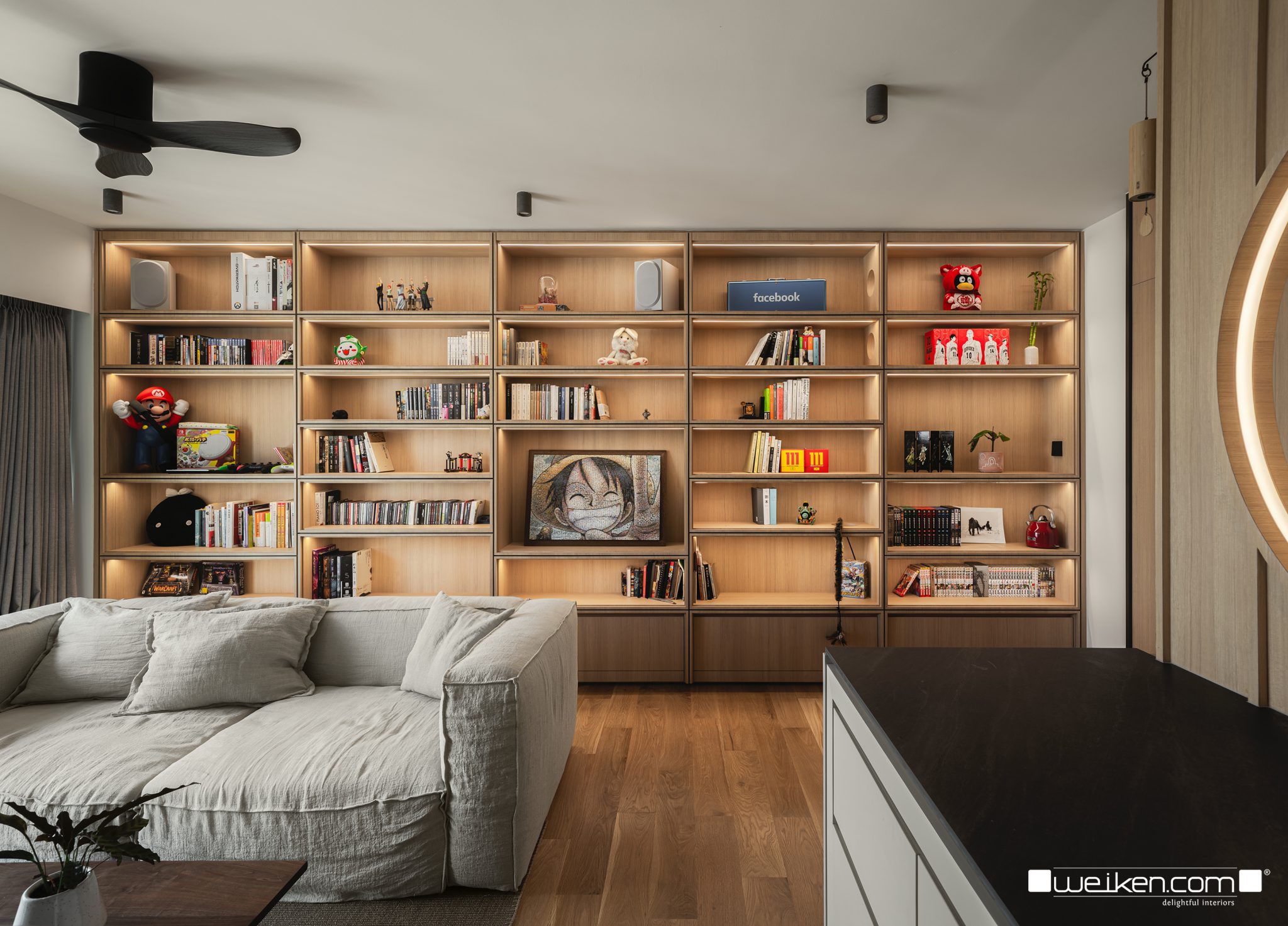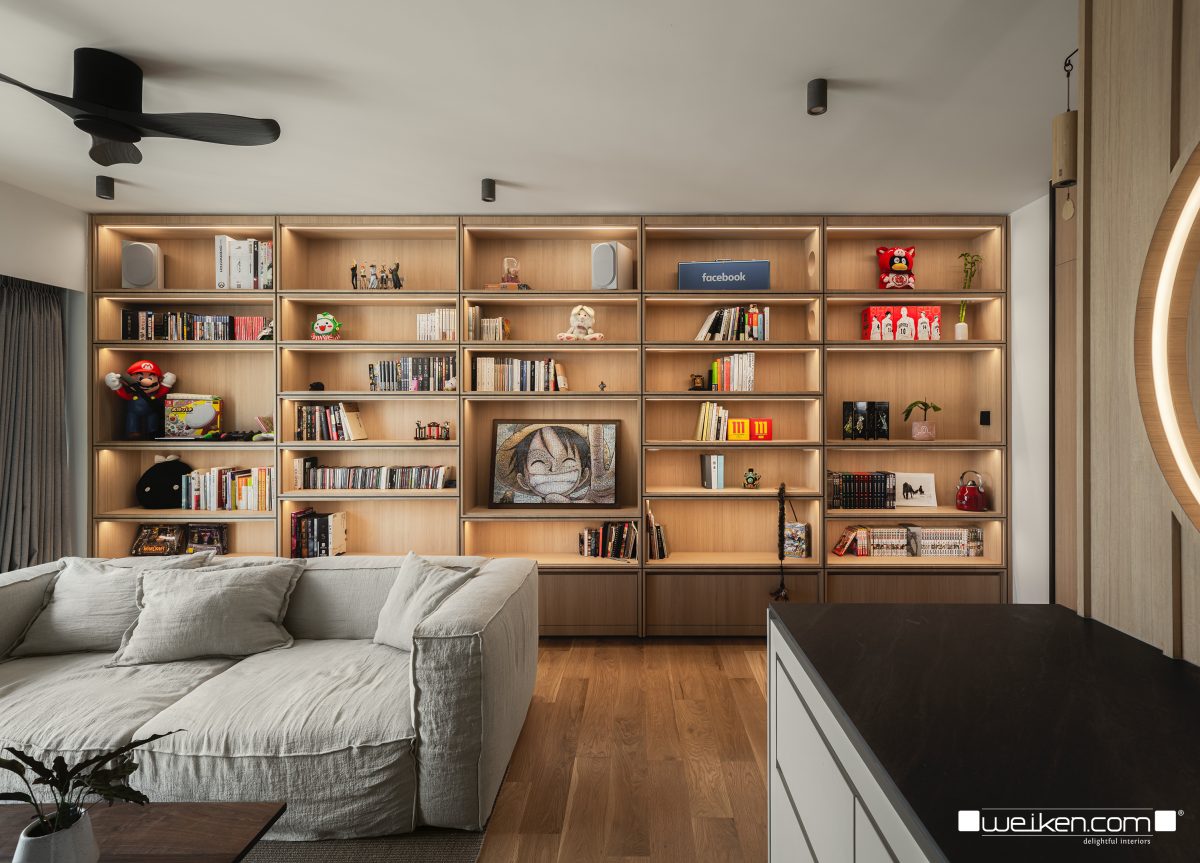 The living room eloquently communicates its design language through adaptability and innovation. A half-height TV wall divides the space without compromising spaciousness. Hidden cables maintain an orderly aesthetic. The expansive wall offers display and storage options, with a hidden door leading to another room, adding an element of surprise and intrigue.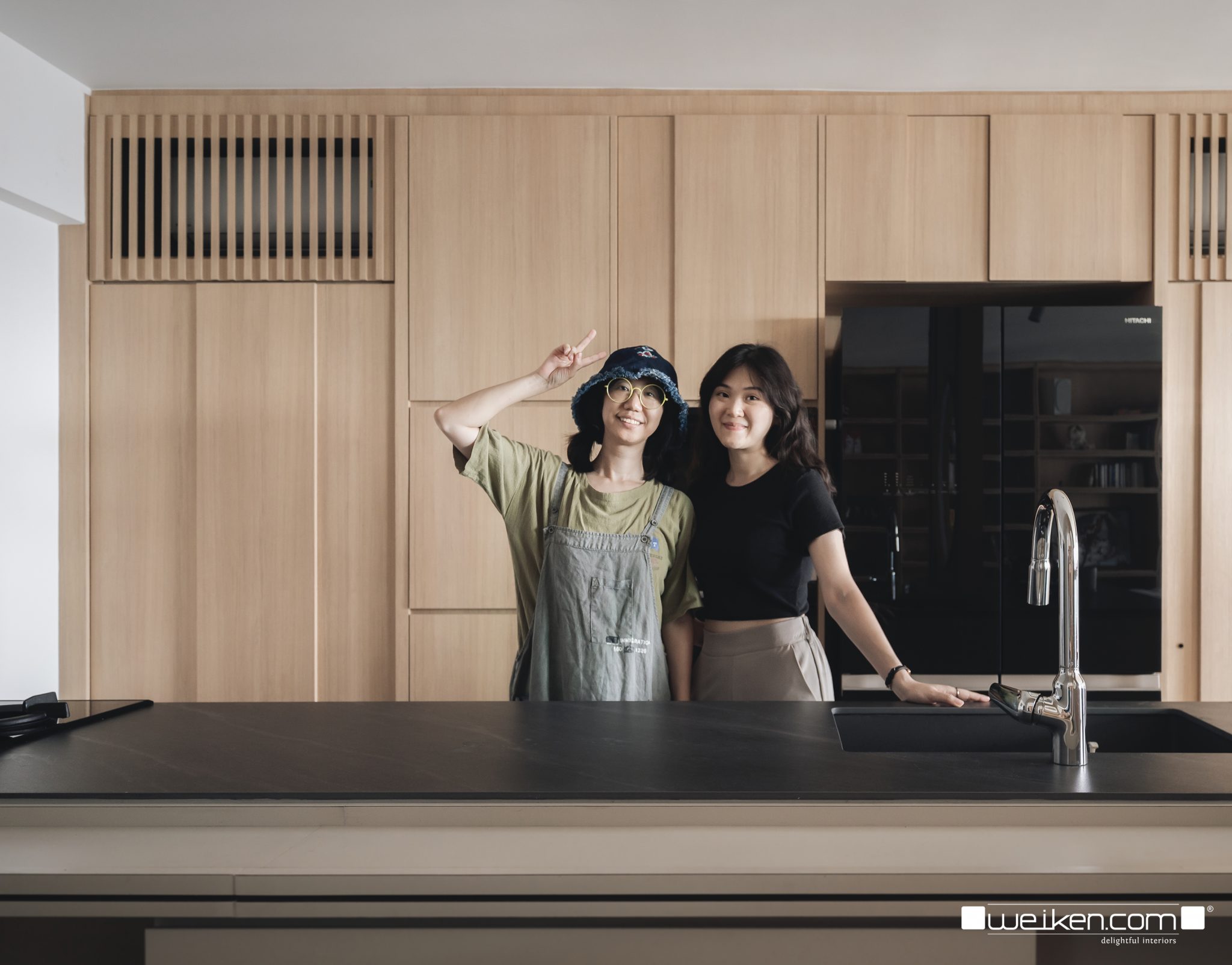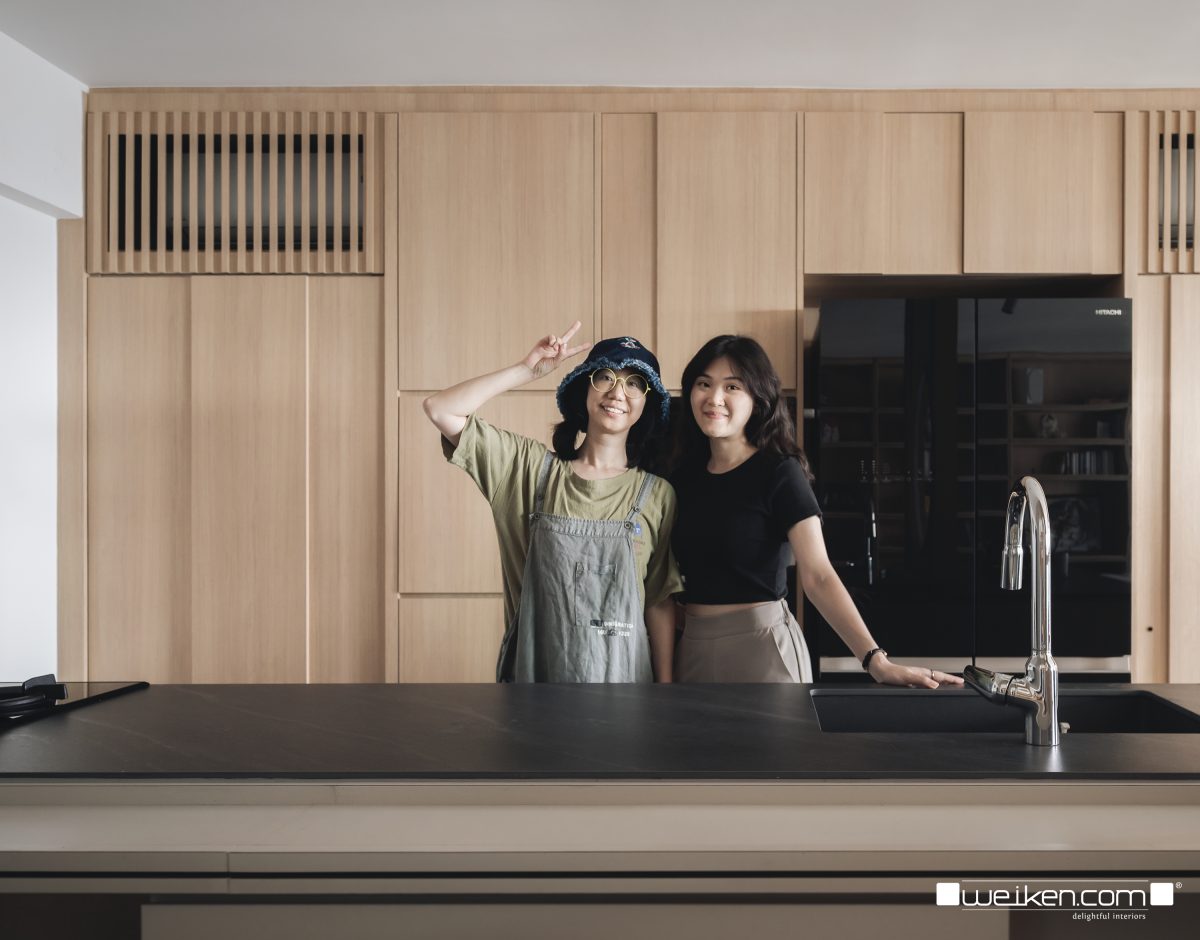 The elegance extends to the kitchen design with the countertop gracefully flowing into the dining room, creating a fluid transition. This multifunctional space accommodates coffee makers, teapots, and light meal preparations – perfect for gatherings.
The pull-out table for four offers flexibility to meet the owner's requirements. The designer highlights that the kitchen's display area can be modified to suit the homeowner's preferences.
A bookshelf display area dominates the public space, proudly showcasing the owner's cherished collection of dolls and books. The intricate details, reminiscent of Chinese woodcarving, add depth and character to the bookshelf. Additionally, the bookshelf features cleverly designed cat holes, for the owner's two feline companions to explore freely.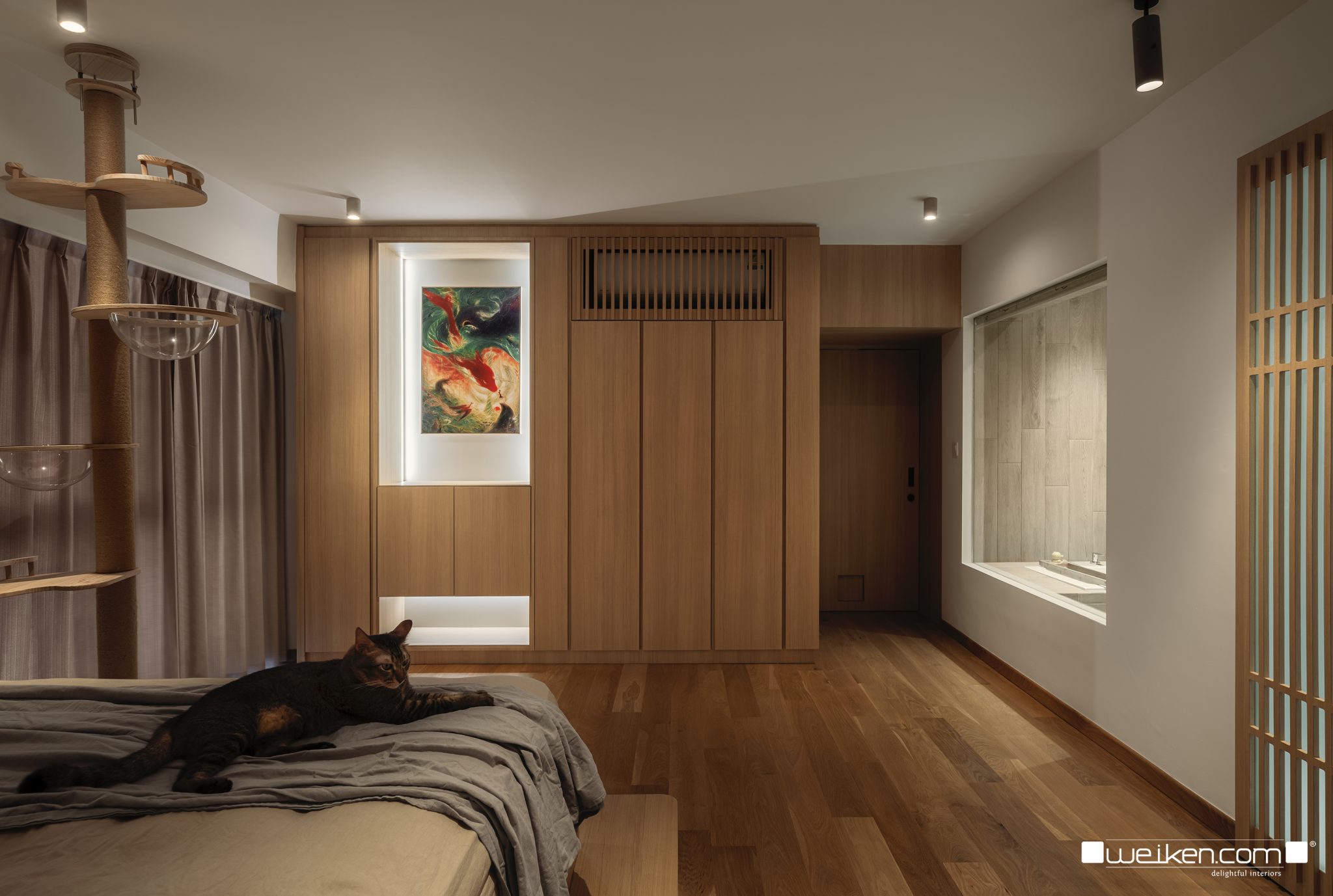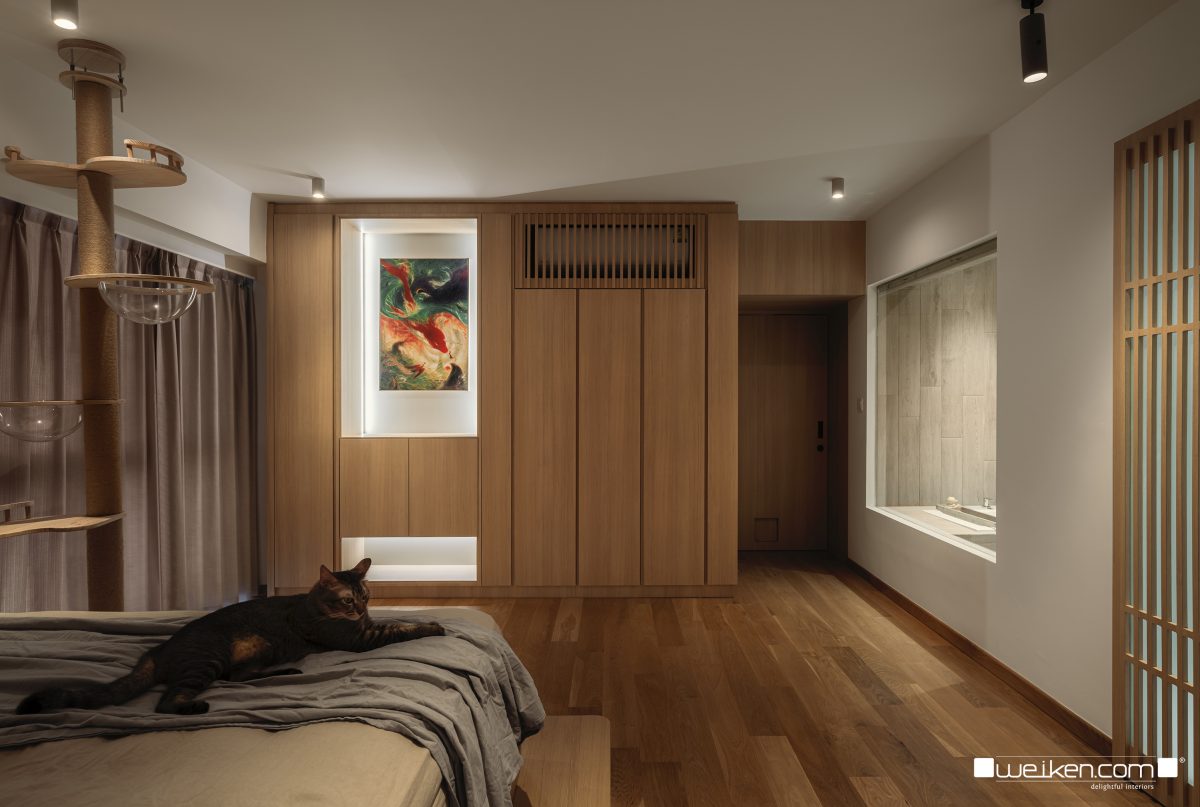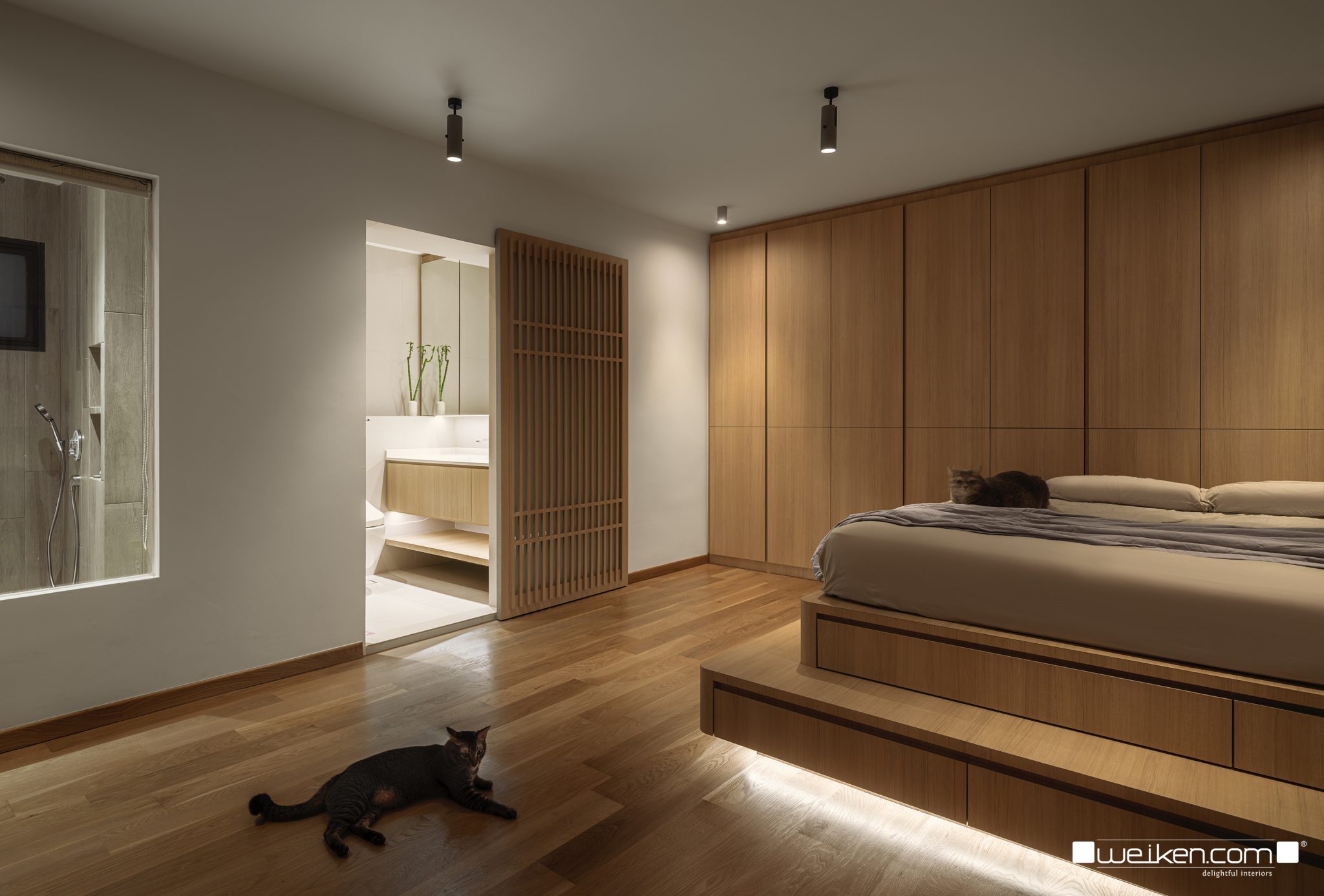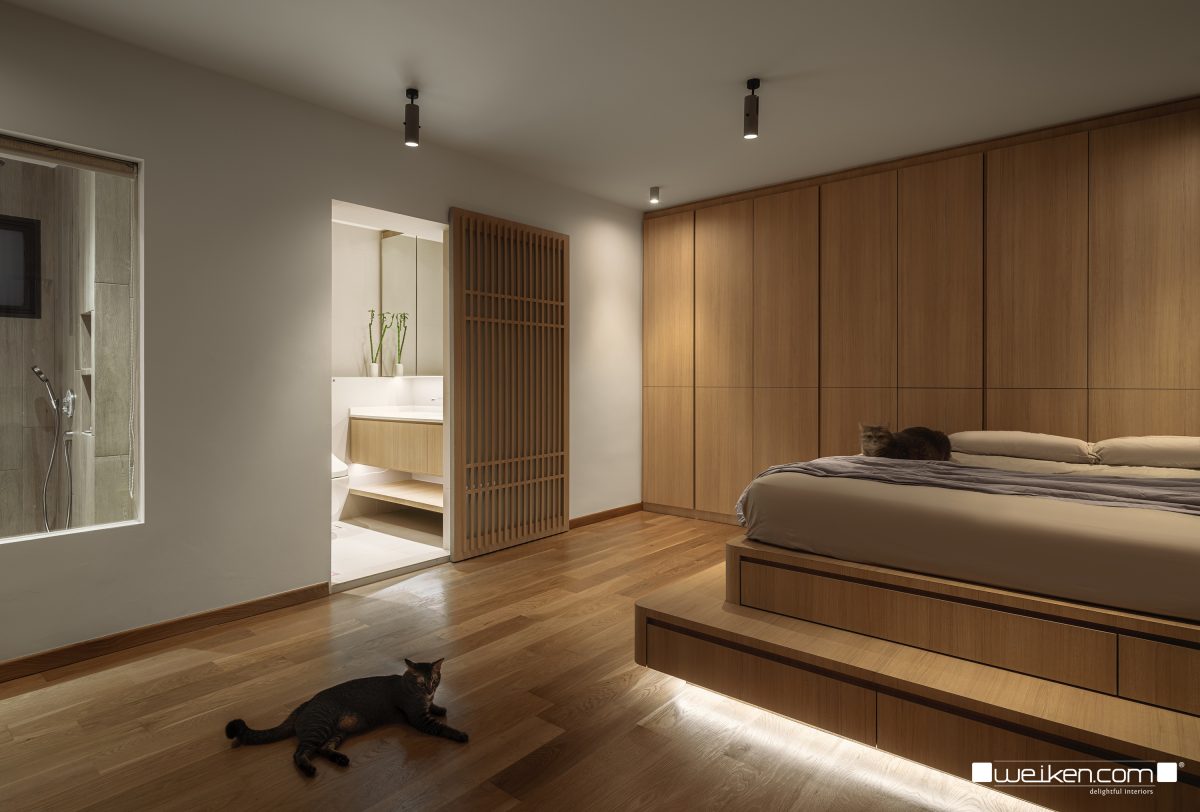 Venture into the bedroom, and you will learn how tranquillity and functionality coexist in perfect harmony. Abundant storage cupboards in the softwood finish on either side of the room frame the spacious bedroom, creating an inviting and peaceful ambiance.
Natural stone elements are thoughtfully incorporated into the design, illuminating the room with a warm glow. The king-size bed, strategically positioned to capture the morning light, provides an elevated perspective from the 49th floor like a suspended island in a wooden river.
Luxurious Bathroom Design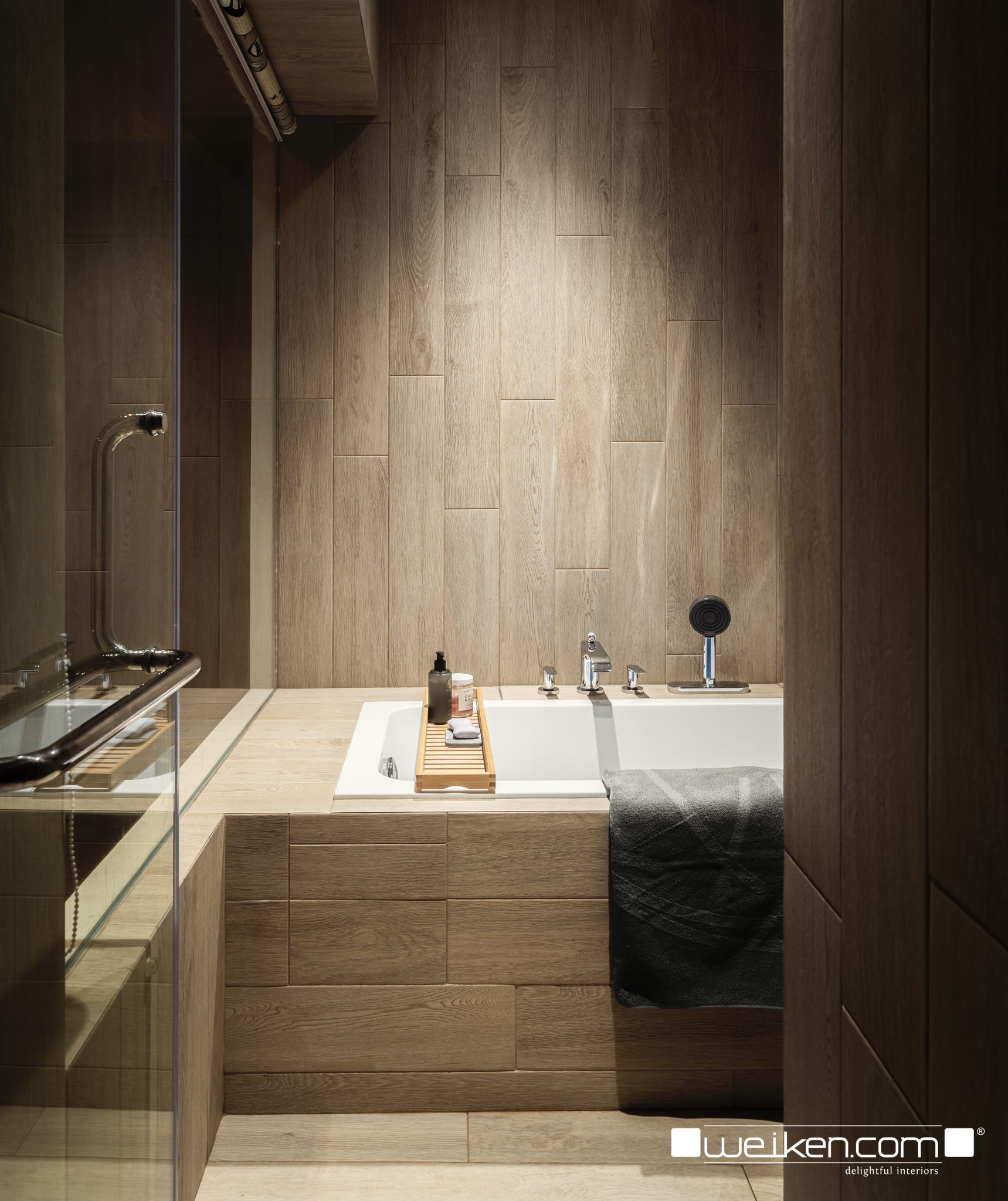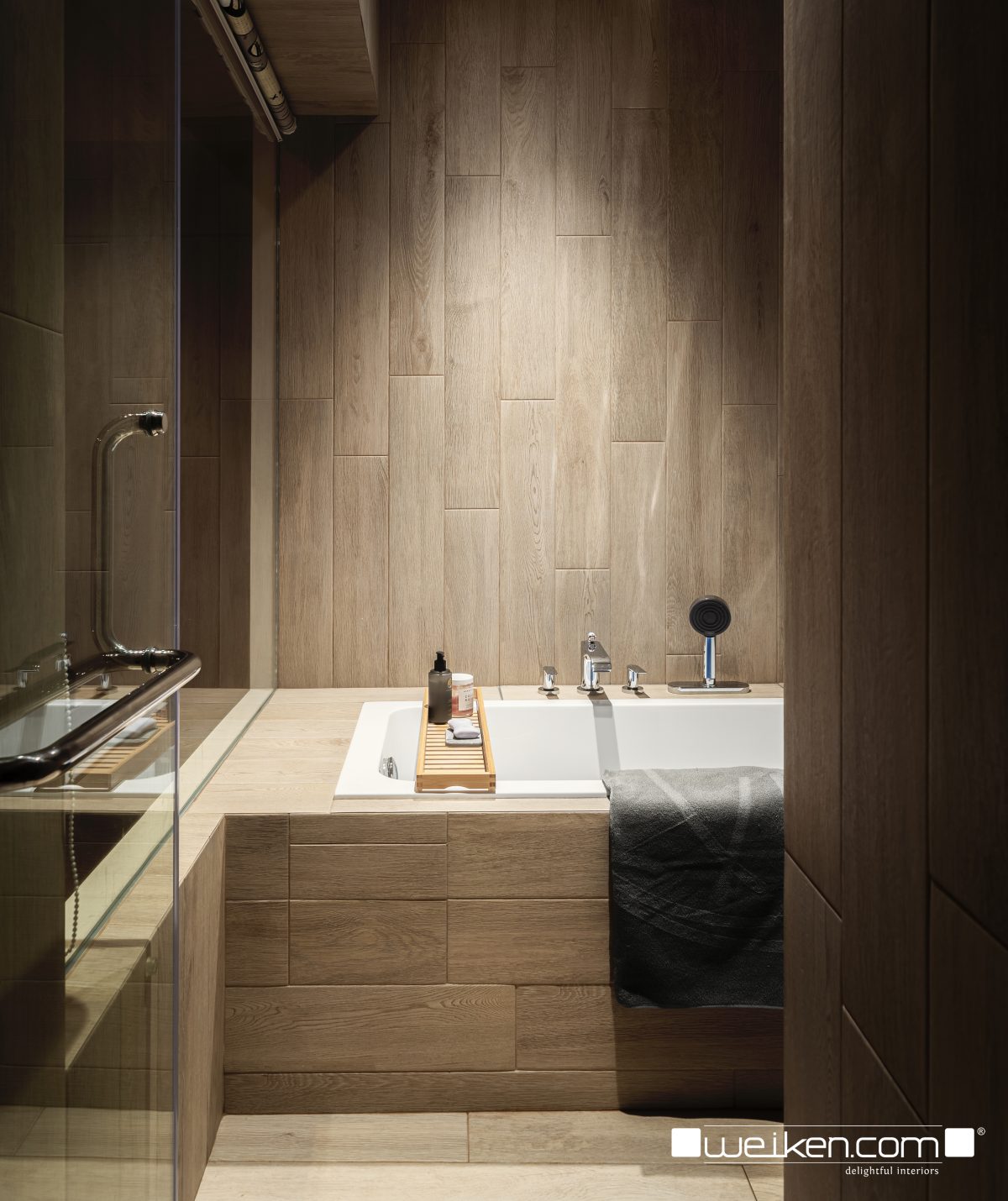 The main bathroom, with its dual toilets, is a sanctuary of modern luxury. Divided into dry and wet areas, it houses a luxurious bathtub and a spacious shower area in the wet area, with wood-grain tiles echoing the overall theme.
Evelyn intended to keep the wall open right in front of the bathtub to install transparent glass so that the homeowner is not limited to space and also offers a breathtaking view while bathing elevating the daily ritual into a pleasurable experience.
It becomes evident that Evelyn Wang's design ethos extends beyond aesthetics, delving deep into the realms of functionality and sustainability which form integral pillars of her creative vision.
Employing an innovative approach that places eco-consciousness at the forefront, her commitment to green practices is evident in her environmentally friendly choice of furniture and decor elements, achieving an exquisite equilibrium between style and sustainability.
During this journey, we found ourselves immersed in an awe-inspiring interior design project by the talented Evelyn Wang. This project exemplifies the flawless fusion of tradition and modernity, intelligently combined with smart spatial planning. Evelyn's meticulous design sensibilities, where scale, materials, and craftsmanship are the defining hallmark of her design philosophy.
Here, we witnessed the amalgamation of culture and innovation, the art of how a skilled designer can take a homeowner's vision and breathe life into it. Beyond a mere residence, it becomes a sanctuary – a personalized reflection of the owner's desires.
Evelyn Wang's design for this Cantonment Road residence not only reshapes physical space but also redefines the essence of a home. The homeowner articulates that stepping inside is more than an entrance, it's an entry into a world where dreams materialize. It stands as a testament to the transformative power of design.
"Design is about storytelling, and each project has its own unique tale," Evelyn reflects, showcasing her passion for her craft.
As we conclude this journey of design, we're reminded of the enduring inspiration that Evelyn Wang's designs offer. Her work offers an invitation to homeowners to reimagine their living spaces, bask in the glory of thoughtful design, and discover solace in the sanctuary they call home. In Singapore, where the rich tradition intertwines with the contemporary, Evelyn Wang's artistic expressions persistently spark inspiration and captivation.